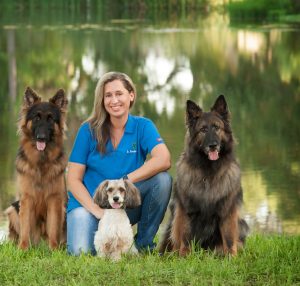 Dr. Nannette Parra
Veterinarian
Dr. Nannette Parra is ParkView Animal Hospitals veterinarian/ owner. We know you will like her great personality and exceptional medical skills. Dr. Parra graduated from Kansas State University in 2002. She is fluent in both Spanish and English. She served active duty in the ARMY Veterinary Corp and has worked in private practice in Maryland, Kansas, and Missouri until she settled in Florida. Dr. Parras Veterinary medicine interests include: Preventive Care and Internal Medicine with a special focus on ultrasound and laser therapy. She has 2 children, 4 dogs, 1 cats and 4 hens and a Rooster. Dr. Parras Outside interests include: Spending time with family, going to the movies, outdoor activities such as camping, geocaching, horseback riding, and nature walks. She is a big for sports fan and loves Baseball (LET's GO RAYS) and College Football, but will watch any other kind.
Dr. Parra Habla espanol en nuestro Hospital de animals.
---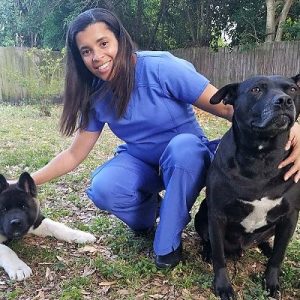 Dr. Bethany Gullette
Veterinarian
Dr. Bethany Gullette was Born and raised in Atlanta, Georgia. She attended the University of Tennessee at Chattanooga and obtained her Bachelor of Science in Biology. She continued her education at Tuskegee University School of Veterinary Medicine, where she acquired her Doctor of Veterinary Medicine in 2009. Upon graduating Dr. Bethany Gullette commissioned as a Captain in the United States Army and took her first assignment at Fort Sam Houston Texas. Dr. Bethany Gullette served there as the Officer in Charge responsible for the care of Military Working Dogs, Cassian Horses, and personal family pets of military families. Dr. Bethany Gullette was then deployed to Afghanistan, upon returning from her deployment, she was reassigned to Fort Benning in Columbus GA, where she served as the Branch Chief in charge of multiple small animal clinics, helping military and TSA working dogs, the family pets of military families, as well as the food inspection missions. After 6 years in service, Dr. Bethany Gullette decided to move to Florida to work as a small animal veterinarian in private practice. In her free time, Dr. Bethany Gullette loves spending time with her husband Lee, their child Samya and their dogs T-bone and Koda.
---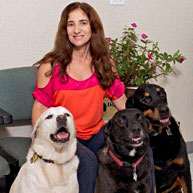 Mickie Hoelzle
Practice Manager
Mickie is our practice manager/owner. She graduated St. Petersburg College in 1978 with a degree in Animal Science. Since 1978 she has worked in the Veterinary Field either as a Veterinary Technician or a Practice Manager. She is also part owner of ParkView Animal Hospital. Mickie has a 3 year rescue dog and 15 year old geriatric cat. Her favorite pass time is traveling. She always has a bag packed… just in case opportunity presents itself!
---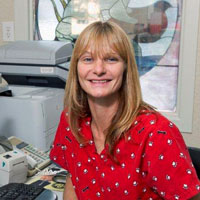 Melissa Garner
Receptionist
Melissa was born in Plant City, FL. She moved to St. Petersburg in 1981. She has 2 adult children, 4 cats and 4 dogs. Melissa has worked at our hospital since we opened our doors and has worked as a receptionist in the Veterinary field for the past 30 years. Now that her children are grown, she has the opportunity to travel!
---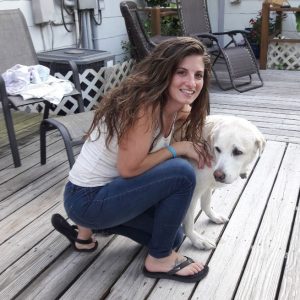 Breanna Milillo
Receptionist
Breanna was born and raised in St. Petersburg! Her love of animals started at a young age. When she was 7 years old, she would come to the animal hospital with her Aunt Mickie and put together puppy and kitten care kits! She has a 9 year old son that she spends all her free time with. They like to go to baseball games and to the beach.
---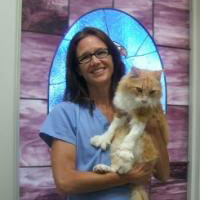 Anthea Oppermann
Veterinary Technician
Anthea was born in England and grew up in Palm Harbor, FL. She joined the ParkView Animal Hospital team in January 2014. Anthea started her career in Veterinary Medicine in 1997. She enjoys working with senior pets and educating clients on how to care for their pets. In her time off, Anthea and her son Grayson, who is a very busy 6 year old, enjoy Legos, Disney Parks, and the beach. Anthea is an avid reader and when she has time she is glued to her Kindle.
---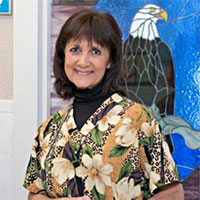 Linda Parmeter
Veterinary Technician
Linda was born and raised in St. Petersburg, Florida. She has been involved with animals her whole life. Prior to working at our hospital, Linda was a horse trainer, a show performer, and entertainer. She was also involved in working with animals that were used for the entertainment industry. She brings many years of experience as a technician and has been with our hospital for the past 15 years. When Linda is not working she likes to Dance!
---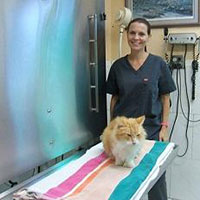 Debbie Feller
Certified Veterinary Technician
Debbie graduated from St. Petersburg College with her Veterinary Technician Certification in 1994. She was born in Erie, PA but made Florida her home since she was 7 years old. She has been married for 13 years and has children, that keep her very busy! George is sitting patiently on the table with her. George is very old!
---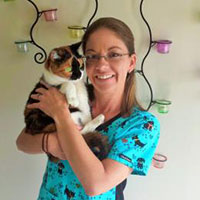 Cyndi Barke
Veterinarian Technician
Prior to moving to Pinellas County, Cyndi lived in a little town just outside of New Orleans. She then moved to Pinellas County and has been working with animals since 1994. Cyndi has experience with birds, exotics, wildlife, and of course, dogs and cats. When she is not working at ParkView Animal Hospital, she enjoys reading, doing craft projects and going to Rays or Lightning games. Cyndi and Eric, her fiance, share their home with a dog, 3 cats, a parrot, and a turtle!
---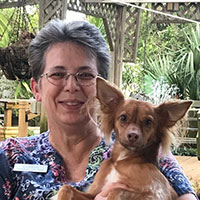 Debbie Walker
Certified Veterinary Technician
Debbie was born and raised in St. Petersburg! She graduated St. Petersburg College in 1990 with her Associates degree in Animal Science. She also received her Veterinary Technician certification the same year. In her previous employment she not only worked with dogs and cats, she also worked with exotics, birds and reptiles. She has 1 little cutie dog name Bug! When not working Debbie likes to play with Bug, kayak and tend to her garden.
---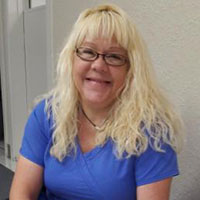 Shana Allen
Assistant
Shana was born in Bloomington,Minnesota. Her family moved here when she was 13 years old. She has 2 adult children and 2 cats named Oscar and Casey. In her time away from the hospital, Shana likes to read and watch football.
---
Our Hospital Mascots!